Journey to our corner of the diverse Carolinian forest for this hands on, interactive event on our 6th generation farm. This is not your average trip to the sugar bush! Inspired by our award winning, exclusive experience "The Sweetest Smell on Earth", you will engage all your senses as you tap a tree, collect and boil sap in a hollowed log, make maple taffy on snow, taste sap at different stages of boiling and enjoy a tasty brunch topped with pure maple syrup.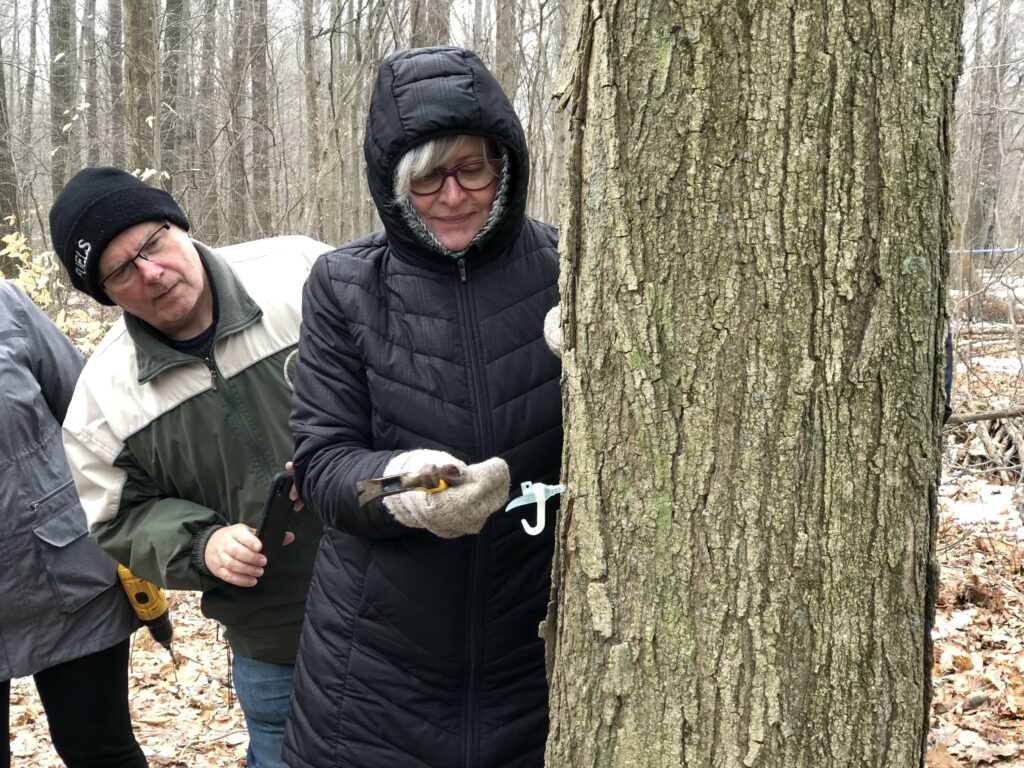 Dress for the weather!  We will be outdoors for a significant portion of the experience, rain, snow or shine! Part of our time will be spent walking on somewhat uneven ground in the bush. For your comfort and safety please choose appropriate footwear.
Brunch Options (included in Price given below):
Pancakes (made with our own homemade pancake mix; choice of plain, blueberry, apple cinnamon or chocolate chip)
Honey Garlic Breakfast Sausages (locally raised and butchered pork) OR Bacon (locally raised and butchered)
Side of Maple baked beans or Maple Spiced Apple Sauce (both made from scratch in our own kitchen)
Pure Maple Syrup
Choice of drink: Apple Juice, Orange Juice, Hot Chocolate, Tea or Coffee (maple or regular)
Adults: 2 pancakes, 3 sausage OR 2 strips bacon Children: 1 pancake, 2 sausage OR 1 strip bacon
Pancakes are a fairly generous size. Extra food may be purchased separately.
COVID-19 protocols will be followed on the wagon ride, in our sugar shanty and in our farm store. Please come prepared to wear a mask in each of these designated areas.
Spots must be reserved and paid for ahead of time. Sign up for one of our scheduled events or book a private event with a group.
We need a minimum of 12 people to run this event and can accommodate a maximum of 24 people.
Our 2022 Hands-on Maple Experience dates are (Price shown is per person. HST will be added at checkout):
Saturday March 19 $50 per adult $40 per child (3-11 years) $170 (2 adults, 2 children)
We will open Saturday March 26th for the Family Maple Experience if tickets for March 19th sell out.
Please Note: Current Ontario COVID-19 protocols require us to check vaccination status of all those 12 and over who eat inside. If you would like to arrange to participate in the experience without brunch, please contact us.
Plans are subject to change based on current COVID-19 restrictions. If we are required to cancel our event due to restrictions, we will fully refund any pre-purchased tickets.